I was very skeptical about styluses for many years, especially over a screen. Closest thing was Wacom's Cintiq and that was a giant monitor. The reason that styluses weren't compelling is because they were laggy and never felt great to draw on screen.

Even with Apple pencil, it is still not great. But very very close. I owned pretty much all iPad models and versions from the very first release (I got a limited edition back then). And I've used Apple Pencil from it's first debut but wasn't convinced and also rejected the new gadget because it wasn't Steve Jobs way. But I can totally understand it's value from the educational standpoint – not art (at least not yet). The first release wasn't necessarily laggy but you can definitely feel it's tech side of it. There is only one thing you're looking at a pencil, and that is the feeling has to be real because you're dragging a pointer on a virtual paper.
With the latest iPad Pro 10" version, with screen refresh rate going much faster, now you can definitely feel it's very very close. With the software support and not being paranoid about hand touching screen while writing or drawing, it definitely gets very close to the real thing. Unfortunately I'm still seeing many of the drawing and note taking apps are having the lag it had from 60 refresh rate old screen. I don't know why it still has that.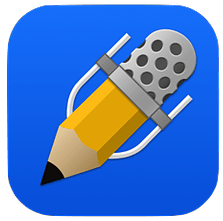 Notability is the one app that I'm feeling very comfortable to draw and create stuff with it. My use cases are still a lot of ideation, super low fidelity wireframing, some planning work. I love the output feels truely non-techy creation but it is in fact a digital creation.
Sometimes we udnerestimate the value of not having boundaries when we think. Even including the requirement of typing our ideas or words on a keyboard being a restriction to our mind. I started this back-transformation with using more and more moleskines than taking notes on my phone.
I like Notability app because it's very simple and plain app with few extra features that I like. You can link your dropbox, google drive accounts to backup all notes in PDF format that becomes very handy when you want to draw some stuff and open in your computer very quickly.